Your kind donations can help The Kiwanis Pavilion continue to offer the very best support to our residents and their families alike. Click to donate or check out our
Donations Page
for more information on ways to contribute to the Kiwanis Pavilion.
'It is our privilege to serve people living and dying with frailty and dementia.  We strive to provide compassionate comfort care, create a safe and friendly homelike environment and build collaborative partnerships with each resident and their family.'
THE KIWANIS PAVILION VISITING PLAN (Updated January 15, 2022)

All residents will be able to have one designated social visitor starting on TUESDAY, JANUARY 15, 2022.

Substitute decision-makers who act on behalf of a resident, we ask that you choose the designated person with your loved one's wishes in mind; please email selection to sjohnson@obkp.org

The designated visitor will NOT need to make an appointment. All visits must occur during regular visiting hours.

Please do not arrive between 2:30 and 3:15 PM as this is shift change for the home and it will be far too busy to process the rapid tests in a timely manner.

Please wear a mask when you arrive on our property and we will give you a medical grade mask during the screening process.

All social visitors MUST be fully vaccinated, wear a mask at all times including in the resident's room (no exceptions) and be willing to receive a rapid test when they arrive at the site. We will supply and administer the test.

Please be prepared to wait in your car/outside as we may not be able to accommodate those waiting in our home due to space. The wait period may be up to 15 minutes after the test has been administered.

We will be asking that visits occur in residents' individual rooms. We will continue to assess and care plan for those residents who may need to have an essential visitor.

We always allow visitors when a resident is at end of life and that will not be limited to the designated social visitor.

The Provincial Health Officer will be reviewing the new orders on January 18, 2022. We will update you with any changes at that time. We kindly request that all visitors follow the infection prevention protocols of the home and follow any instruction given by our greeters or team members.

The Pandemic has been difficult for everyone and yelling, threats and non-compliance will not be tolerated.

We understand that these new visiting protocols may be difficult for you. Our team is dedicated to providing "care with compassion" to your loved one and yourselves and we thank you all for being kind and understanding.

If you have any questions, comments or concerns regarding The Kiwanis Pavilion or these new changes, please reach out to me, Shannon Johnson, at sjohnson@obkp.org or 250 598-2022 ext.222.

What families are saying about the Pavilion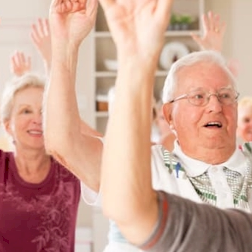 Kiwanis Pavilion
3034 Cedar Hill Road,
Victoria, B.C. Canada, V8T 3J3
Phone (250)598-2022
Fax (250) 598-2023